There's not a single dry soul in this city who roams the way I do. At least 2,000 thoughts cross my mind each day and hide in the pockets of my brain. I'm going cold turkey. Lets see how my cells attack each other. Currently they are dancing to "Vitalic". I hear them swishing around to compose me a lovely headache. I think they want sleep. I probably should agree but I am addicted to music and Last.fm. But never the less, I am here because I miss my youthful rants about current events.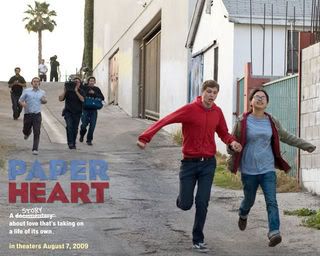 Last Wednesday I saw "Paper Heart". I didn't think Michael Cera was dreamy til then. I was the only girl in the audience. Actually I was the only one in the audience come to think about it, and by Jove it did not bother me. I enjoyed it, really. I saw it fit with my mood at the time. Which brings me up to speed; My moods and I are sort of detached at the time. They need time review the value of the people in my life. My ego provides some sort of "caste system", which leaves me numb and impermeable. School's great, I just could have hoped for more time of to dwell in my most current artistic measures. My boss is going to introduce me to one of her formal employees'. He is studying film, very shy, and according to her..he is pleasing to eye i.e. "Handsome". I think she's trying to play matchmaking. Which is hard in my case, because I tend to have a flavor of the week and I lose interest so quick, its short of disease. I guess it won't hurt to find somebody with a worthy common interest. This city lacks so thought and etiquette. Olympia is looking quite spiffy right about now.
I love Juergen Teller, and that is all.